Bookbinding machines, along with many other do-it-yourself tools, are becoming very popular. Machine prices have fallen over the past decade, which has opened the door for many individuals to buy their own machines. It is no longer a "business-only" tool. With more and more people shopping around to buy their own machines, some people have a hard time finding the right machine for the job. There are literally a dozen different bookbinding formats out there.
Choosing a machine doesn't have to cause anxiety or difficulty. Three binding styles have become the norm so far. These are comb, wire and coil bindings. While the names may not provide many details, each of these binding formats is unique and has its own advantages and disadvantages.
Plastic Spiral Binding
- Comb binding is one of the most commonly used and easily recognizable book binding formats. The comb binding process involves a machine and a plastic binding element. The machine punched a total of 19 holes on the 11-inch edge of a sheet of paper, and 19 fingers on the spine slide through the holes. Once the paper is punched, these "fingers" are inserted through the holes. Once the fingers are closed, the comb binding process is complete.
Comb binding is popular for many reasons. First, comb binding supplies are very affordable. A box of 100 elements usually costs less than $5. Comb binding elements are available in a variety of colors and in over a dozen different diameter sizes. Comb binding supplies are very common, very readily available, and even reusable. One disadvantage of comb binding is that the comb does not allow the pages to wrap around.
Coil Binding - Coil Binding is quickly becoming a favorite among do-it-yourself bookbinding enthusiasts. Coil binding uses helical coils, very similar to the spiral notebooks that many students use in class. Modern coil binding uses colored plastic PVC coils. There are two different hole patterns for machines and consumables. One is 4:1 pitch (four holes per inch) and the other is 5:1 pitch (five holes per inch).
Once the coil binder punches holes in the paper, the coils can be rotated through the holes. This can be done manually, or if equipped, a machine can spin the coil through the hole. The coil binding elements are extremely durable, available in a variety of colors, and can be used to bind sheets up to an inch long.
Coil binding is very popular for binding recipes, reports and presentations. Due to the nature of coil binding, the pages can be completely wrapped, and coil bound books are easy to lay flat on a table or table.
Wire Binding - Double loop wire binding is the least commonly used binding format for individuals and more commonly used by businesses for binding professional presentations and reports. Sometimes called double looped wire or double looped wire, wire binding involves colored metallic elements that, once bound, give the appearance of 2 loops of wire going through each punch hole in the paper. The wire itself has a very elegant look and is available in three different hole patterns. The most common hole patterns are 2:1 pitch wire (2 holes per inch), followed by 3:1 pitch wire (3 holes per inch) Wire-O. The least common is the 19-ring Spiral-O wire, which is designed for comb-bound hole patterns.
Wire binding looks great, but can bend if not handled properly. Another disadvantage of wire binding is that elements cannot be reused. However, this may be a benefit for those who want to use a tamper-proof binding format
Multi-Color and Various Size Plastic Binding Comb 84 Holes-Plastic Binding Combs/Rings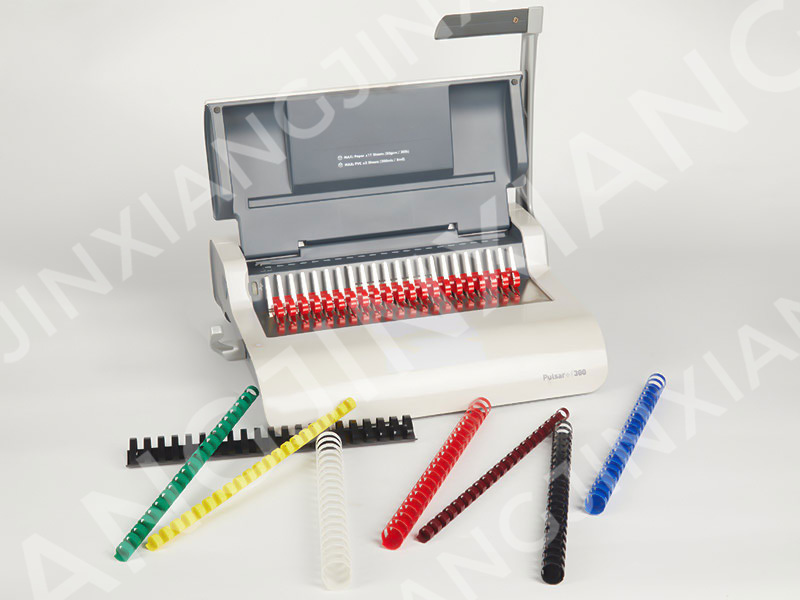 PLASTIC BINDING RINGS/ PVC BINDING COMBS
COLOR:Black/White/Red/Yellow/Blue/Green/Clear/Gray/Maroon/Navy blue
SIZE:According to Binding's diameter, it could divide into19 species (see table).
Normal 21rings, also can order specific rings, such as 19/38/84rings.
PACKING: White box/ Corrugated box/ Color box.