Leather Grain Paper Cover
is a type of decorative paper that is made to look like genuine leather. It is made by printing a pattern of leather grain onto a paper substrate, which is then coated with a clear or colored finish to give it a glossy or matte appearance. This type of paper cover is often used in the bookbinding and packaging industries as a cost-effective alternative to genuine leather. It is also used in other applications such as wall coverings, furniture coverings, and as a decorative layer on items such as boxes and journals. The grain pattern and finish can vary depending on the manufacturer and the desired aesthetic, making it possible to create a wide range of different leather-like appearances.
Leather Grain Paper Cover is used in a variety of ways, including:
Bookbinding: It is often used as a covering material for book covers, journals, and photo albums to give them an elegant and professional look.
Packaging: It is used to wrap boxes, gift bags, and other packaging materials to give them a high-end look.
Wall coverings: It can be used as a decorative layer on walls, creating an elegant and sophisticated look.
Furniture coverings: It can be used to cover chairs, tables, and other furniture items, giving them a new look and adding durability to the surface.
Art and craft projects: It can be used in various art and craft projects, such as making journals, scrapbooking and card making, as well as other DIY projects.
Product branding: It can be used to make product packaging and labels that will stand out on the market.
Interior decorating: It can be used to create a unique and stylish look in any room by covering lamp shades, picture frames, and other decorative items.
Cost-effective alternative: It can be an cost-effective and eco-friendly alternative to genuine leather as it doesn't involves animal cruelty and is more affordable.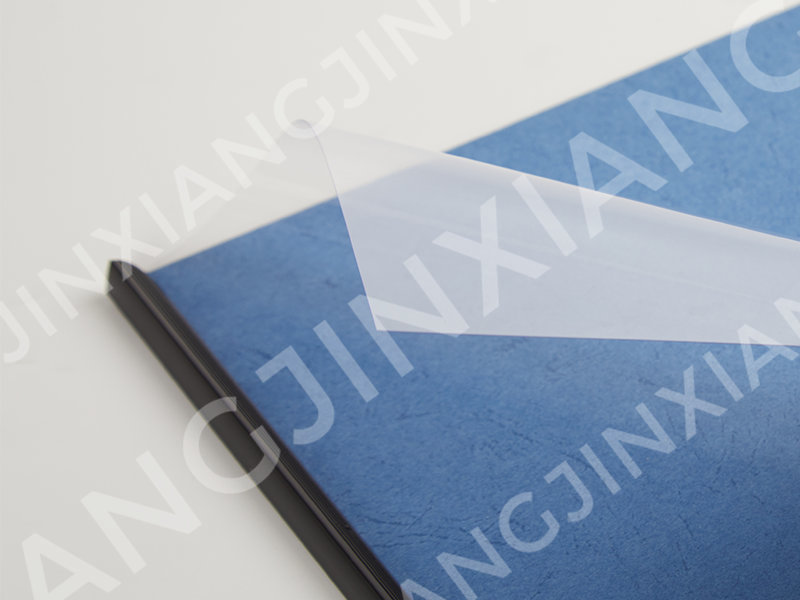 PVC FILM/ PLASTIC BINDING COVER
COLOR: Clear/ Transparent Red/Yellow/Blue/Green/Smoky gray/Maroon...
                Opaque sheet can also be produced.
SPECIFICATION : A4 / A3 / Letter / Legal / Customizable
THICKNESS: 100--600Micron, can be customized.
(Best-selling specifications: 150mic/180mic/200mic) 
PACKING: OPP bag/ Shrinkwrap / Color box.