The texture of leather grain paper covers plays a significant role in enhancing the tactile experience for users of leather-bound notebooks and planners in several ways:
1.Sensory Appeal: The carefully crafted texture of leather grain paper covers engages the sense of touch, offering a delightful tactile experience for users. This sensory appeal creates a strong connection between the user and the product, fostering a sense of appreciation and satisfaction.
2.Softness and Suppleness: High-quality leather grain paper covers are engineered to be soft and supple, providing a luxurious feel to the fingertips. This softness not only adds to the overall comfort of handling the notebook or planner but also communicates a sense of refinement and attention to detail, which are highly valued in professional settings.
3.Improved Grip: The textured surface of leather grain paper covers enhances grip, ensuring that the notebook or planner can be held securely. This practical aspect is particularly beneficial in professional environments where individuals are constantly on the move, attending meetings, or taking notes during presentations. The improved grip minimizes the risk of accidental drops and enhances user confidence.
4.Warmth and Comfort: Leather grain paper covers, with their natural warmth, provide a comforting touch. This characteristic is particularly appreciated during long meetings or brainstorming sessions, where users often hold their notebooks or planners for extended periods. The tactile warmth adds to the overall user comfort, promoting a more enjoyable and productive work experience.
5.Natural Feel: The texture of leather grain paper closely mimics the natural feel of genuine leather, offering an authentic experience without the ethical concerns associated with animal-derived products. In professional contexts where ethical considerations are paramount, the availability of high-quality, ethically sourced leather grain paper covers is a testament to a company's commitment to responsible practices.
6.Aesthetic Appeal: Leather grain patterns add depth and character to the cover, elevating the overall aesthetic appeal of the notebook or planner. In professional settings, where appearances matter, the refined and sophisticated look of leather grain paper covers communicates professionalism and attention to style. This visual appeal is often associated with high-end products and reflects positively on the user's image.
7.Perception of Durability: The textured surface of leather grain paper covers gives the impression of durability and resilience. In professional contexts, where individuals rely on their notebooks or planners to store crucial information, this perception of sturdiness is reassuring. Users are more likely to trust a product that feels robust, making leather grain paper covers a popular choice for professionals seeking reliable and long-lasting stationery solutions.
8.Customization Possibilities: Leather grain paper covers can be easily customized through techniques such as embossing or debossing. This customization adds a tactile dimension to the cover, allowing users to physically feel logos, brand names, or intricate designs. In the realm of professional branding and corporate gifting, this customization option is invaluable. It allows businesses to create unique, personalized products that leave a lasting impression on clients, partners, and employees.
9.Memorable Experience: The distinctive texture of leather grain paper creates a memorable and distinctive user experience. Professionals who use notebooks or planners with leather grain paper covers are likely to remember the product positively, associating it with quality, elegance, and attention to detail. This memorability factor can contribute significantly to brand loyalty and customer satisfaction, leading to repeat business and positive word-of-mouth recommendations.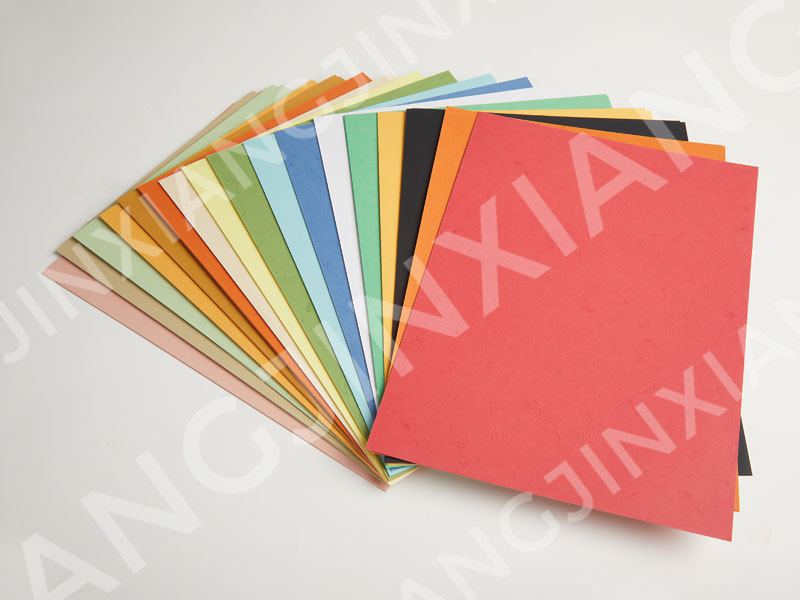 COLOR: Black/ White/ Colorful.
SIZE: A3/A4
WEIGHT : 150g/ 210g/ 230g/ 250g/ 270g.